Small Group Resources
 On Small Groups
MCF Small Group Code of Conduct
MCF Ministry Getting Started
MCF Ministry Small Groups
MCF Ministry Outreach
MCF Area Reps Information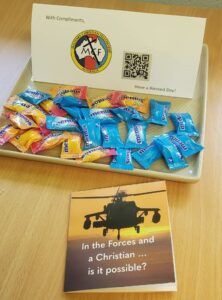 You may like to customise the 'With Compliments' template to advertise the time and place your small group meets. You don't need to be an MCF-A Rep to do this.
Contact [email protected] to see if you qualify for $$ assistance for lollies (or similar) for this project or if you would like tracts, small booklets or pens to give away too.
With Compliments template: MCF With Compliments
Bible Study – different methods for running a study
Bible Study Basics and Preparation
5Rs Bible Study method
RANSOM-Bible-Study-Method-Print
SOAP Bible Study method
SwedishStudyMethod-Arise
Small group study material
100 Days
Bible Battlefield Commanders
Field Manual Ephesians by J M Brown CDR, USN (ret) (added 2020 – contact MCF office for printable version)
Fighting Words Basic_Training_Printable[1] (added 2020)
Hard Questions
MCF Defence Values
Messages and Miracles A 5-part Bible Action Plan based on 2 Kings 5-8
Colossians
1 Corinthians
Ephesians
Philippians
Philemon
Resurrection
2 Timothy
Value
ALTC Christian Resources/Worship Services – thank you to CHAP Skipper for encouraging MCF and it's members to use this. (added 2020)
These are on ADELE: access link You may have some access problems on Internet Explorer, Chrome and Edge are fine. It also able to be accessed by phone or personal computer if you sign up for the link. (You need to have a defence email address to access.)
The main content is the Worship Services which are 30 minutes in duration including songs, prayers, Bible reading and the message. The message is about 15-20 in and make great group discussion starters.
Bible Study and sermon notes by MCF Member's Rep Steven Cutts (added 2020)
Hebrews – Foundations of Faith
James – Faith That Works
1Peter – Hope & Holiness
2Peter – What Kind of People
(added 2021)
Study guide – John's Letters    Study guide – John's Letters – A5    Johns Letters – Light Life Love Liars and Lawlessness