Crossfire Magazine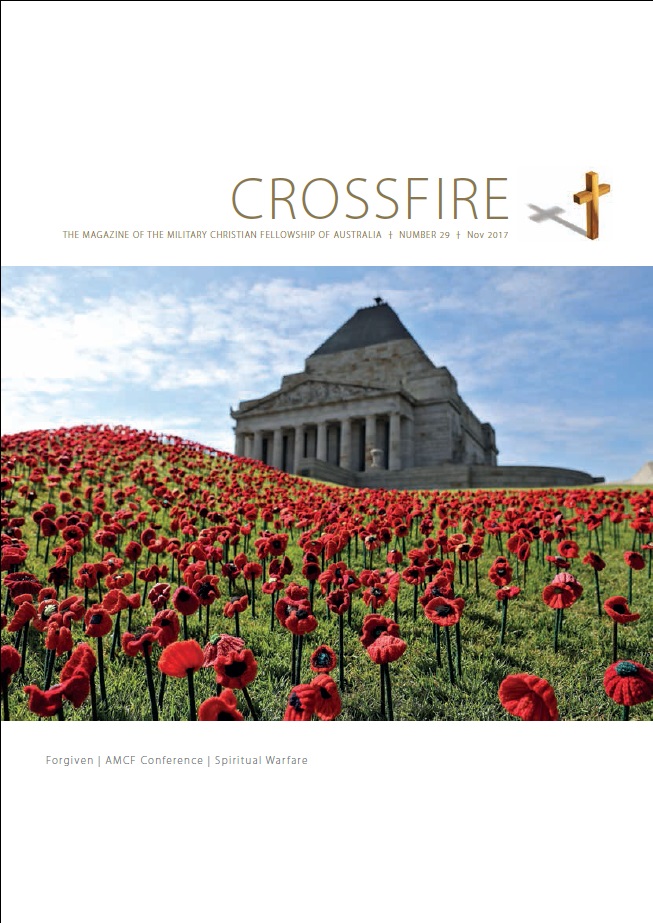 The latest Crossfire magazine, Edition 29, is now available! Featuring articles from FLTLT Scott Minchin, Chaplain Kevin Russell, Berni Dymet, Mat Kratiuk, Andrew Hastie, MP and many more! Click here to download Edition 29.
---
Want to go straight to a particular article. Choose from below:
Chairman's report LTCOL Jamie van Heel.
MCF Forgiven Seminar BRIG Dan Fortune.
Forgiving the Unforgivable Berni Dymet.
Fear and Failure or Grace and Greatness Mat Kratiuk.
ADF Chaplaincy and other Defence Ministries Information Evening.
Of whom I am the worst FLTLT Scott Minchin.
Is it possible to be a faithful follower of Christ in the military and in politics? Andrew Hastie, MP.
AMCF South West Pacific Regional Conference.
Let everything that breathes praise the LORD Chaplain Kevin Russell.
Leadership: Military and Spiritual Warfare LTGEN (Ret'd) Ajai Barnabas Masih.
"There Must be Somethin' else — Some'ow": Veterans Spirituality Murray Davies.
Thou Shalt Not Kill Leigh Wilmington.
The Battle of Beersheba and the Christian Connection: Lieutenant General Sir Harry Chauvel Graham McDonald.
Administrator's Report and Small Group Code of Conduct.
Living out thankfulness Michael Nott.
Previous editions of Crossfire magazine are archived here.