Reflection - Defence Christians Dinner Adelaide 2022
On Saturday 19 November, I was blessed to attend the ​Defence Christians Dinner South Australia, held at the Naval, Military and Air Force Club in Adelaide's CBD.  There was a wonderful mix of people in attendance from both the military and civilian worlds, all with a common respect, appreciation and yes, love, for those who serve our country (along with their families) so honourably, and often with great sacrifice.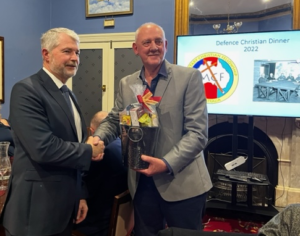 The guest speaker for the night was the Hon Senator David Fawcett MP (left), former ADF member of over 22 years and Army pilot (flying helicopters and fixed wing aircraft), and the Senior Flying Instructor at the School of Army Aviation in Queensland.  Senator Fawcett is now Senator for South Australia and Chair of the Parliamentary Joint Standing Committee on Foreign Affairs, Defence and Trade.  The Senator provided an update on Defence and was gracious enough to also share some fascinating personal stories.
The Senator encouraged us all to know our history and to know who it is we serve – the Lord God Almighty.  He reminded us that Jesus said to pray for our enemies.  We must always remember that Jesus spoke to people with grace and forgiveness – and then spoke Truth.  The Senator exhorted us all to put on the full armour of God (be prepared!) and have integrity in all that we do – without it, it all falls apart.  Remember; our battle is against the spiritual realm and it is vital that we know God's Word and His instruction manual (the Bible).
One of the people at my table was Chap. Lt. Col. Steve Neuhaus.  Steve is the MCF-A Chair and has had a fascinating career, including joining the Army in 1979 for a three-year stint, (and then apparently forgetting to hand in his discharge papers 😊), 19 years as an Australian Federal Police Officer before becoming a Police Chaplain, and then an ADF Chaplain.  It was great to also have Steve's wife, Cath, at our table – I could have chatted with them for hours!
A big thank you to Mr (MAJ – Ret'd) Geoffrey (Geoff) Robertson (right) for organising the wonderful evening and to the staff of the Naval, Military and Air Force Club who looked after us all so well.  And a special mention to those who travelled all the way from Puckapunyal and Canberra to join us for the dinner.
It would have been wonderful to have an in-depth chat with everyone who was there that night, but unfortunately, there just wasn't time.  I am looking forward to next year's dinner!
Susan H – MCF-A Associate Member and long time supporter, Adelaide.