A note of encouragement and 'Fighting Mac'
Dear fellow believers, – a note of encouragement.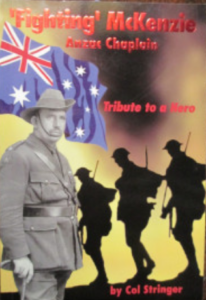 Perhaps if you are like me, you may feel a little intimidated and maybe even discouraged by the spirit of scepticism and disbelief in our prevailing Australian culture. However, as Christians, we should remember that it was not always-such and that even in times of great trouble and conflict; God has always had his people and has put his people here for a reason.  A few months back I came across a short biography of the life of a remarkable man that I had not had heard of before but during and after WW1 by some reports was the most well-known and best loved man in the country. It is well worth a read.
'FIGHTING' McKENZIE, Anzac Chaplain – Tribute to a Hero" by Col. Stringer. (Book link Below)
William McKenzie was a Scottish immigrant (born in 1869 in Lanarkshire Scotland) who by the time of the First World War, had already been a Salvation Army officer for 25 years. At 45 he was at the upper age considered suitable for War Service, never the less in 1914 he applied for and was granted a commission in the 2nd AIF as chaplain to the Australian army and by early 1915 was aboard the flotilla accompanying the ANZACS to the Gallipoli landings.
He was man of tremendous faith 'under fire'.  He stayed for the whole course of the Gallipoli campaign, and much of the Western front campaign living through the horrors of trench warfare and countless attacks and counter attacks. At Gallipoli, he earned the nickname 'Fighting Mac,' because he was never too far from the front line and regardless of his own personal safety always made sure that 'his boys' were being looked after both in life and in death.
Shunning concerns for his own safety, he often conducted services and funerals under enemy fire. When orders came to storm the Turkish trenches Mac was urged to return to safety. Despite this, he was with the troops on their assault. At the Charge of Lone Pine, armed with only a shovel. His 'boys' pleaded with him to stay behind, but he replied: "Boys, I have lived with you, I've preached to you and I've prayed with you. Do you think I'm afraid to die with you?"
Following service in Gallipoli he was appointed Chaplain to the 4th Battalion of The First Australian Infantry Brigade in Egypt where he was in great demand to encourage and prepare the diggers for the fight ahead. It was said that so great was his concern for the moral fibre of the troops that he personally went into the brothels and dens of Cairo in Egypt, to drag 'his boys' back to the relative sanctity of the army lines.
In 1917 Mac went with the Battalion to France. He was with the Fighting Fourth at Pozieres, Bullecourt, Mouquet Farm, Passchendaele Ridge and on the Somme. Those in charge often feared for his safety but yet again Mac shunned their pleadings and would often accompany the men into battle.
After three and a half years' service with the troops a decree limiting overseas service of Chaplains recalled William McKenzie to Australia, but before doing so he attended Buckingham Palace at Royal Command, where he received the Military Cross from King George V in recognition of his military service.
By the end of the War he received a heroes-welcome back home and was in great demand around the country. Great public gatherings were held in each state and a crowd of around 7000 greeted him at the Melbourne Exhibition. At the request of the N.S.W. Government, he spent 12 months on special service assisting with the repatriation of returned soldiers, traveling far and wide in the interests of his old comrades. He later went on to be a missionary to China as a Salvation Army Officer. At one stage, it was said he was more popular than Prime Minister Billy Hughes. Incredibly, hardly anyone knows of him now.
Chaplain McKenzie personally led thousands of ANZAC diggers to the Lord many of whom were formally antagonistic and sceptical. In the midst of a horror that has never been seen or like he was a tremendous source of encouragement and solace to the world war one diggers. Incredibly, he came within inches of death many times but he survived each time by taking heed to his 'guardian angel.'
You can read the rest of his story in the book (how to buy below).
Sometimes we forget that there have been generations of believers who have gone before us and suffered all sorts of difficulties with antagonism and suspicion from their fellow countrymen before breaking through and making a difference.  God has always had his people. In our generation we may sometimes be on the minority and face suspicion, but one with God is a majority. I'm quite sure of that! As for my own lived experience, I have done my best to keep my head low, and avoid conflict, but it never ceases to amaze me how that conflict seems to follow.  But then I'm reminded that we are part of a much greater battle, and often the greatest battle is the one that is within. But then again, I'd rather be on the Lord's side. So that's my encouragement.  Keep up the good work.
God bless you all.
In Christ
Peter T (MCF member)
If you'd like to contact Peter, please direct emails to [email protected]
………………………………………………………………………
'FIGHTING' McKENZIE, Anzac Chaplain – Tribute to a Hero" by Stringer, Col.
The Story Of 4th Battalion Chaplain William McKenzie.
https://booksonwaraustralia.com/digger-diarystories/1383-history-anzac-chaplain.html#:~:text='FIGHTING'%20McKENZIE%2C%20Anzac%20Chaplain,Forces%20on%20the%20Gallipoli%20campaign
A VERY BRAVE AUSTRALIAN – LEST WE FORGET
95% of the book is his Military career WW1.