Defence Family Needs and Church Responses
Chaplain Mark Willis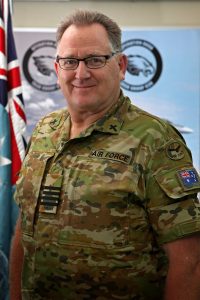 MCF Seminar Dinner – 20 May 16
I am currently the Command Chaplain at Joint Health Command, working in the Directorate of Mental Health Psychology & Rehabilitation, ensuring, amongst other things, that spirituality is included in the ADF Mental health and Well-Being Strategy.
The ADF and in particular the Air Force is currently involved in a number of operations. We have quite a number of assets deployed at any one time; from C17s, C130s, KC30 refuellers, P3s, the Hornets and Wedgetail – great aircraft doing a great job. But for every aircraft out there and for every pilot in the seat there are many, many ground support members who keep them in the air. And behind both the pilots and support members are their wonderful families and loved ones.
We are going to consider some factors that influence a military families well-being and then some things those in local area churches, might like to consider in order to help these families live life and live it to the full.
A quick snapshot of some of the issues people face:
When someone gets sick (physical, mental) their medical categorisation is adjusted or downgraded as we call it. So if you break a leg, you need time to heal, you cannot deploy, you could receive a MEDCAT downgrade. When better, you receive an upgrade. However, if your injury/illness is such that it will not heal and there is no prognosis of recovery to deployment standards then you go before a Central Medical Employment Classification Review Board (CMECRB) in order for a decision to be made if you can continue service in some capacity. It can take quite a while. And many do not get a positive outcome at the end.
A number of veterans have to face some nasty business where they are fighting, as do the analysts who are removed from direct conflict yet who watch, report and control situations. I can certainly predict that a number of them will return with a moral injury, if not PTSD.
Another common factor with Defence members and their families is the posting cycle. They may only be in a location for around two years.
MWD(U) (Member With Dependents Unaccompanied) – married separated … and if any turn up at church and say they're married separated, don't panic, it just means when their husband/wife is posted, the family has chosen to stay in their current location while the military member moves alone to the new posting. Families may choose this for various reasons – family stability, access to medical services, maintaining the spouses job and so forth.
That brings me to a term we know as 'Emotional Arrival'. It can take various family members different times to emotionally arrive in a new location, to start to settle in.
Member – two to four weeks (same uniform, job, often with known workmates)
Our children – six weeks to three months (settle into school, find new friends, join a new sporting team)
Our partners (generally wives) – three to six months (find a new job, doctor, hairdresser, ladies Bible study group, etc)
So what can you do? What can those in local churches in the area do to help?
Well it's pretty simple really … you can, and should pray for them, yes, pray for them. And that's where I finish … not really. I could, because prayer is actually the key to seeking God's guidance in all that you could do for the military members in your area.
I'm going to use a mnemonic, and it is PRAYER.
P          Prepare
How many military members in your congregation? your street? the suburb around your chapel?
Understand the posting cycle and what that might mean. Every 2/3 yrs a posting might happen.

It's hard
Neighbours often don't put effort in
Churches are wary, reluctant to use – they're just blow-ins
Six months from out-posting, locals switch off – subconsciously
Why put effort into knowing, involving, training, etc if only here for 2/3 years.
Try and get a feel for the deployment cycle in your area, (not all are the same for instance the Wedgetail folk can be sent on multiple short deployments).

Defence families are usually reasonably close-knit (maybe look at keeping family units together in Sunday school).
Airwomen/men, soldiers, sailors vs. Officers
R         Reach Out
Advertise your presence at the base, DCO welcome days, local rag, letter box drops …
Organise a welcome to area BBQ or Dinner … pack of goodies (not Oprah style, but take good hints from the locals).
Maybe the local ministers can get together for a fun day.
Ask the local Chaplains to come and speak (endorsed by sending churches).
Organise a special focus on Defence Sunday (Sunday before Nov 11)
A         Action
'Dear children, let's not merely say that we love each other; let us show the truth by our actions.' 1 Jn 3:18 (NLT).
Welcome the stranger
Introduce them to others – similar family/interests
Help them find a home group
Establish a 'grand parent' program
Run a military wives Bible study group
Men's adventure activity
Pop around and mow the lawn
Take a meal over
Respite care by taking children to footy, skating, etc – and here's the hint, don't ask if they would like you to do something for them – most are very resilient, been through this before and can cope. Just turn up with that casserole, or big bag of fish'n'chips, or the lawn mower.
Do note that when on deployment the Government does pay well, so when considering doing things for military families which may cost, remember it's not about money, it's about love.
Y          (Give of) Yourself
Your genuine love and care will shine through
Take on a new friendship, even though you know it is only for a short while
Defence families are often separated from family of origin and childhood friends – we just love it when we can make friends in a new location.
E          Encourage
Use Defence Sunday to identify, recognise, and pray for Defence families
From time to time send out an encouraging email – especially if their partner is deployed.
Kind word
R         Resources
Google – Military Wives Bible Study
Buy – The Five Love Languages for Military Personnel
Use the local Chaplains for ideas
When a family is leaving the area, contact a church in the receiving area vouching for them.
Appoint a Deacon/Elder/??? As the 'Deacon for Military Affairs' or as we'd call it, a DMA.
There it is: PRAYER
Prepare
            Reach out
                        Action
                                    Yourself
                                                Encourage
                                                            Resources
This article is from Crossfire #28 Mar 2017 and is based on Mark Willis' presentation at the 2016 MCF 'Hope' Seminar Dinner