Defeating the Unseen Enemy
MAJ Geoff Robertson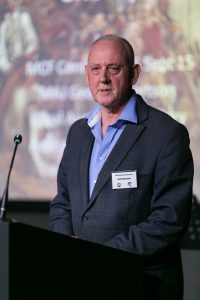 Disclaimer – This presentation is entirely about spiritual warfare and acknowledges that we are to submit to authorities in accordance with Romans 13:1
The Unseen Enemy
The unseen enemy doesn't want you to read this. It strikes deeply to the heart of his centre of gravity when his strategies and deceptive tactics are revealed. We are going to proceed anyway because God has other ideas!
In the film Lord of the Rings when Frodo Baggins places the ring on his finger the screen turns to black and white and he becomes terrified as he sees the parallel world of spiritual darkness. I believe this is symbolic of the reality of the unseen spiritual world in which we live today.
When a person is born again, God takes the veil away from their eyes enabling them to discern the spiritual realm. Unless we are aware that there is an unseen spiritual world the enemy can defeat us whilst we are totally focused on operating in the physical realm. Some of us have come face-to-face with the physical enemy on the modern battlefield of today but all of us are situated on the spiritual battlefield whether we are aware of it or not.
Having personally been delivered from demonic spirits, early in my Christian walk, God has purposefully demonstrated to me the reality of the unseen and evil demonic world and also the awesome unlimited power of the Holy Spirit to overcome any of our spiritual adversaries. God has also blessed me abundantly by showing me personally many of the miracles recorded in the Bible. Accordingly, I believe that every time we gather together in the name of Christ we are like the World War 2 Supreme Headquarters of the Allied Expeditionary Force commanded by U.S. General Dwight D. Eisenhower, gathering as a council of war but as a council of war against an unseen enemy.
If the enemy is an unseen spirit, how does he wage war against us?
Not everyone is aware of the fact that the battleground is in our mind. The enemy's aim is to dominate our thinking with lies and deceptive thoughts that destroy our hope and our destiny. He continually whispers lies and deceptions in our ears, heart and mind.
Paul in Ephesians 6:12 gives us battlefield intelligence from as far back as 60 AD, 'For our struggle is not against flesh and blood, but against the rulers, against the authorities, against the powers of this dark world and against the spiritual forces of evil in the heavenly realms.'
Notwithstanding, God's Order of Battle (ORBAT) is far superior to the enemy's ORBAT. Even though the enemy is an overwhelmed smaller force, he can strike against a larger force using deceptive operations.
Like the elephant that learns as a baby he cannot proceed beyond the length of his leg restraint without being hurt and as an adult is similarly constrained by his entrapped mind, the enemy aims to build strongholds in our minds that neutralize us.
God's plan, the Commander's intent, is to get his Kingdom back – he wants us to understand how we can defeat the enemy and that his ORBAT is invincible and undefeatable when we know how to rely on and have faith in him. God's ORBAT compared to the enemy's would be like comparing a fully bombed-up US Aircraft Carrier with a rubber dingy.
God wants us to know that the battle is his to win on our behalf, as we have faith in him, knowing that he has all the power whilst we have none. He wants us to access his power with our God-given power of attorney, given in Jesus' name.
This is analogous with the JTACs (Joint Terminal Attack Controllers) who have no power in themselves but the authority on the battlefield to call in air, ground and naval firepower simply by an authorized call for fire over a radio.
"The Battle Belongs to the Lord" 1 Samuel 17:47
The Principles of War
The principles of war that enable an army to achieve victory can be applied in the spiritual realm. Of the ten principles of war the ADF employs, there are two I wish to review in this address, namely; Offensive Action and Co-operation.
Offensive Action
How can we take offensive action in the spiritual realm? Offensive action is aggressive, bold, pre-emptive and audacious action against an adversary, and in this case, against the unseen enemy. Over time I have slowly learned from God some practical ways we can take offensive action and I hope they will be of assistance to you as well.
Spending time with God
When we spend time with God and put our relationship with him first, seeking his righteousness and his Kingdom as a priority, he grants us the desires of our hearts and mentors us one-on-one. He shows us how to defeat the adversary. Therefore purpose to make regular time in your schedule and expect great things to happen.
Praising God
When we come before God in reverence and praise him like King Jehoshaphat did, God sets the ambushes against the enemy (1)
Immediately run to God when we develop a "chink" in our armour
When you find yourself in sin run straight to God. Like conducting an Immediate Action (IA) on the F88 Austeyr, immediately act – repent, read and speak out relevant passages of God's word and pray in the Spirit. The enemy wants us to be isolated in guilt – accept God's immediate forgiveness, his gift of no condemnation. Stay on the offensive.
Establish a prayer mountain
Reconnoitre a close training area and a field training area to spend time with God. A room in your home and a place on a "mountain" in close proximity. Expect God to speak to you through the Holy Spirit and journal your experiences.
Discern the spirit behind every thought
Behind every thought there is a spirit, our spirit, the Holy Spirit or the demonic spirit (the unseen enemy). The Holy Spirit is always encouraging and uplifting. The adversary always oppresses and is the master of lies. We need to seek God's discernment and use soldier-like discipline to trust and believe only the truth.
Practice thought-to-thought combat
Fight against the lies and deceptive thoughts of the enemy by believing and having faith in God's word. Like Neo in the movie "The Matrix", faith and belief lead to supernatural success. Believe and don't doubt and expect God to supernaturally act. (2)
Use the sword of the Spirit like Jesus
Jesus defeated the enemy by saying "It is written" and quoting the word of God. Use the concept of war – gaming, a red force vs. blue force. Practise individually or as a group. The "Shut Up the Devil" App is an excellent resource. (3)
Speak the word aloud
The enemy wants to close our mouths. When we speak aloud God's word, it is analogous with firing our new M777 155 mm howitzers. The word (the ammunition) is meditated in the heart (loaded in the breach) and spoken aloud (fired). Like artillery ammunition, unless the word is spoken (fired) it has no effect. The spoken word not only has the advantage of having no range limitations, it releases the supernatural power of God. That is awesome tab data.
Execute "artillery barrages" through intercession
Preparatory, covering, counter – attack and interdictory spiritual "firepower" can be achieved through intercession – prior to, during and after significant events through intercession by individuals or "combat" prayer teams. The enemy must flee.
Meditate on the word
As we meditate on God's word day and night God brings us success. (4)
Maintain personal weapon readiness
God has provided us with spiritual armour to have victory in battle. Like the Commandos we must maintain our weapons readiness by continually training with it. (5)
Be baptized in the Holy Spirit and pray in the Spirit unceasingly
Praying in the Spirit builds up the inner man, ushers in the presence of the Spirit, "scrambles" angelic support, heals the body and enables the perfect encrypted prayer. See how to be baptised in the Holy Spirit. (6)
Guard your heart
Visualise God's promises as a picture in your heart. What you have in your heart you become. Where the mind goes the man follows. Visualise images of life not death.
Establish a wingman
A wingman protects the lead pilot from potentially dangerous events. Choose a person who you can be in covenant with, who is guaranteed to be a confidant and pray for you as required. I have a former F/A-18 fighter pilot as a wingman who always provides me with top cover. I often receive the SMS "Screaming Eagle 11 in hot – got you covered".
Resolve and persist to never give up praying and seeking God
Like the ANZACs and the Commandos, "never give up!" God delights in answering prayers for those that persist in asking so as to prove he is God and to build our faith. (7)
When in command, command
God wants us to use the authority he has given us. He has given us the power of attorney to operate in the name of Jesus. He wants us to pray from heaven rather than to it. (8)
Testify to God's power and goodness in our lives
We are the evidence
Love others including our enemies
Conduct random acts of kindness
Co-operation
How can we employ the principle of co-operation? We need to stay mission‑focused against the adversary and not fight amongst ourselves. I recall one of our Major Generals saying "I am a Major General, and I fly at 50,000 feet because it is my job to be mission‑focused, on the big picture, to ensure we can defeat any adversary coming against our country". We must keep out of the "weeds".
Pursue unity until it hurts
One of my army colleagues during a Brigade exercise, experiencing some difficulties, grabbed me by the shoulders and said, "Co‑operation till it hurts, mate". What a wonderful maxim to work to in the spiritual space.
Identify others in the "mountains of influence" and join forces as a spiritual coalition against the unseen enemy
All nations comprise areas or mountains of influence namely – government, family, religious, media, education, business, arts and entertainment. Hitler exploited these mountains to overcome a nation. God has placed his people in these areas of influence. We need to identify each other and work in co-operation to ensure that righteous representatives are present at the highest levels of decision‑making in all of these "mountains" to change the culture for good. Like our Defence Coalition, God's people need to work as a coalition if they are to defeat a global threat.(9)
Taking Action
Getting Started
Some priority suggestions to get on the offensive quickly – be baptised in the Holy Spirit, establish a prayer mountain, identify a wingman and commence training in thought‑to‑thought combat.
Field Trip on Prayer Mountain
A Prayer Mountain field trip was conducted in Canberra in late 2015 following the seminar with participants personally experiencing how God speaks to people who seek his face.
Faith Under Fire
"Faith Under Fire" is a DVD training series endorsed by the previous CDF GEN David Hurley, AC, DSC, and designed to facilitate soldiers, sailors, airmen and women to conduct a spiritual check prior to deployment. This excellent series is accessible via your local chaplain.
How to come under the protection of God
If you want to come into God's love and protection and be equipped to defeat the unseen enemy check out Jesus.
He promises that if you seek you will find. (7)
"For God so loved the world that he gave his only Son that whoever believes in him should not perish but have eternal life " John 3:16. (10)
Success or failure can depend on a personal faith that can sustain you under fire.
Call life a Question
Socrates once said, "An unexamined life is no life at all". Can I encourage you to call life a question and embark on a journey of discovery? (11)
Resources and References
(1) 2 Chronicles 20:20-22 (2) Mark 11:22-25 (3) Shut up the Devil App. Download the audio version from within the App entitled "Experience Freedom – A journey into unlocking God's truths"  (4) Joshua 1:8  (5) Ephesians 6:10-18 (6) Derek Prince on YouTube – "How to be baptized in the Holy Spirit" (7) Luke 11:9-13 –"Ask, Seek, knock"; Gen 32:24-29; Luke 11:5-13 (8) John 16:23-24 (9) Lance Walnau on YouTube – "The Seven Mountains" (10) Joseph Prince YouTube – Salvation   (11) Os Guinness on YouTube – "The Journey – A thinking Persons Quest for meaning" – The Veritas Forum
Note: MAJ Robertson can be contacted on [email protected]