ADF Chaplaincy & Defence Ministries Info Evening 19 May 17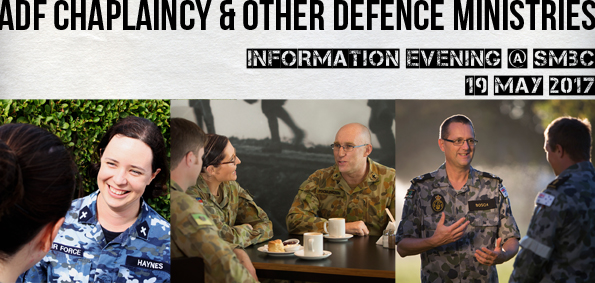 You then, my child, be strong in the grace that is in Christ Jesus; and what you have heard from me through many witnesses entrust to faithful people who will be able to teach others as well. Share in suffering like a good soldier of Christ Jesus. No one serving in the army gets entangled in everyday affairs; the soldier's aim is to please the enlisting officer.
2 Timothy 2:1-4 (NRSV)
The Australian Defence Force (ADF) is a mission field with many unique challenges and opportunities.
In May 2017 we had an informative evening at Sydney Missionary and Bible College where we learnt about some of the various opportunities for ministry within the ADF. It was an encouraging evening as a lot of different people brought helpful input to share about life and ministry in the ADF in various forms.
The following day the MCF Forgiven seminar was also held at SMBC.
For further info about events like this or if you would like to organise an event in your area please contact: [email protected] or 02 6266 4950
This event was hosted by the Military Christian Fellowship of Australia with the support of Defence Chaplains and other Defence Ministries.